Current Classes Online
I hold online classes for people who yearn for a creative arts community not based on skill set but in art as healing modality, who want to co-create the shift to a culture that prioritizes healing arts over competitive and success/failure paradigms. In this class we learn to deepen our capacity to listen on all levels. Viewing others artwork and their process can be liberating to your own as can talking about your work in a safe container of kindred spirits.
We broaden the scope of our art vocabulary by viewing a short slide presentation of various artists each week. The roots of critical mind and self judgement are deeply embedded in us all. Creating the spaciousness of mind for deep play is the art of surrender.
Together we enter a space where art is a sacred dreamscape of the heart and we see that not just our artwork but our entire life is a reflection of the way we look, feel and listen. Writers and untrained artists are welcome.
"If I create from my heart, nearly everything works:
If from my head, almost nothing."
Marc Chagall
Classes are weekly on Wednesday from 10:00 am to 1:00 pm. PST. Friday afternoons 1:30 to 4:00 pm PST.
New Groups Forming.
Drop ins welcome. By donation, $20-$60 per class.
For more information or to register contact Michael at zievestudios@gmail.com
Student Remarks:
"Michael's online groups offer so many advantages. Obviously, I have the privacy of my own space, which also means I have ready access to my own materials, and the luxury of continuing my art exploration after the group has signed off. Not so obvious, perhaps, is that online learning has added motivation for setting up a studio area, and scheduling creative time daily. Feeling a strong 'togetherness' in this small circle, we create and learn through Process Painting, and then share with the group each week. Our group is supportive, respectful, creative and open, energetic and friendly - which in large part is down to our fearless leader, Michael. He brings a kind spirit, always encouraging and professional. The framework he has created is well-balanced, grounded and safe. He has brought a dream of mine to life - we 'visit' works of art together, and then discuss and learn, thanks to Michael. Online with Michael is a time I look forward to all week long."
Lindy Woods, former Expressive Arts Therapist.
Teaching
My teaching is a blend of art as therapy, somatic awareness, archetypal imagination, formal art instruction and personal mentoring for deeper engagement in art as individuation process. Artmaking for me is an important link to spiritual practice, transforming energetic patterns, accessing joy and creative fulfillment. The entire body/mind is held as sacred vessel within the greater vessel of our True Nature.
I offer private instruction at my home studio in Sebastopol situated in a wooded rural setting or can travel to you. We work with drawing tools, watercolor and/or acrylic. The Earth is an important dimension of my personal practice and is a great resource in healing and individuation. I enjoy meeting people where they're at in their journey, offering options and methods to help them grow and discover their authentic creativity and healing through art.
I have taught in after school programs, the Children's Museum of the Art Institute of Chicago, adult creativity workshops, private and public class settings.
Some of my greatest teachers and influences include:
Tao Te Ching, Gary Snyder, Wendell Berry, Hafiz, C.G. Jung, James Hillman, Bill Plotkin, Santikaro, Buddhadasa Bhikkhu, Joanna Macy, Thich Nhat Hanh, Hakomi Method, Zuza Engler, John Prendergast, Jean Klein, Ellen Emmet, Pamela Wilson, Shakti Caterina Maggi, Amoda Maa, Thomas Huebl, Saraswati Ma, Prajna Ginty, Beautiful Painted Arrow (Joseph Rael), Susanne Marie, Michele Cassou, Barbara Kaufman, Shaun McNiff, Art Brut/Outsider Art, Karl Wirsum, Leon Golub, Richard Diebonkorn, Nathan Oliveira, Helen Frankenthaler, Willem De Kooning, Joan Mitchell, John Sloan, Ash Can School, John Singer Sargent, Claude Monet, Henri Matisse, Marc Chagall, Pierre Bonnard, Emil Nolde, Max Beckman, Diego Rivera, Frida Kahlo, Eduard Vuillard, Paul Gauguin, Odilon Redon, Vincent Van Gogh, JMW Turner, Giambattista Tiepolo, Francisco Goya, Diego Velazquez, Rembrandt, Fra Angelico, Giotto, ancient trees and children.
Touch the Earth
I offer creativity workshops grounded in nature for intimate groups and gatherings. I have used a modified version of this workshop effectively as a healing modality for coping with the uncertainty and challenges surrounding dramatic cultural and ecological change.
Workshop Description:
In pursuing a deeper course of attunement we find our body to be part of a vast body. Art practice in nature (the outdoors) is a potent theater for a deeper sense of enchantment, connection, spiritual embodiment and creative revelation.
Held in a loving container we ground in the earth, the elements and nature, letting our native impulse to explore and commune with the vegetable and elemental worlds return. Using components of painting, drawing, movement, meditation, poetry and song we delve into a multi layered call and response. The shared intention to hold sacred space and the tender arising of soul response in nature softens our attachment to 'product' in artistic expression and makes for greater currents of aliveness through grounded play. As our awareness deepens and we relax into our 'true nature' memories and wounds from the past are allowed to surface. Facing the inevitable shadow material that arises in our expression challenges us to go deeper, to experience the root of our unease and give that as an offering to Gaia. This deep listening through creative engagement is self releasing and we return more whole, balanced and revived.
Workshops from 3 to 6 hours or weekends.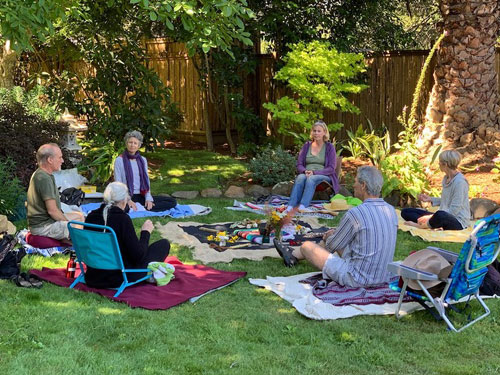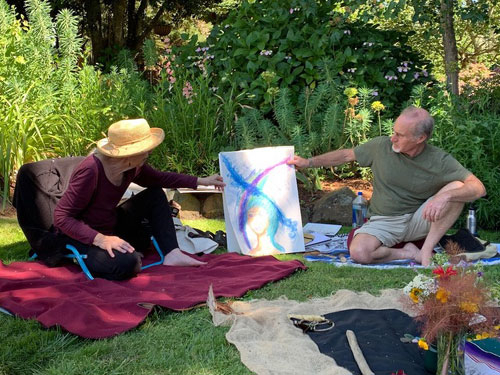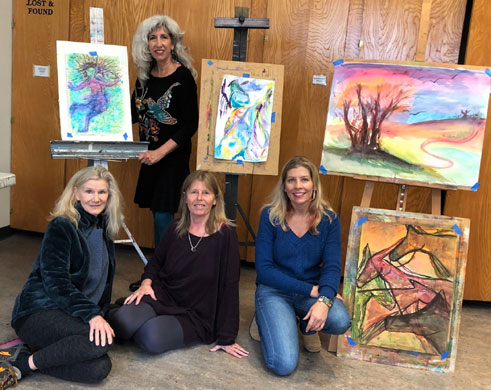 Past Classes and Workshops
Process Painting and Somatic Inquiry:
Petaluma Art Center, Petaluma, CA. class series spring/summer classes. 2019
Sebastopol Center for the Arts, Sebastopol, CA. class series spring/summer. 2019
Wild Indigenous Watercolors
Petaluma Art Center, Petaluma, CA. Class series fall 2019
Mixed Media Composting Circle
Sebastopol Center for the Arts, Sebastopol, CA. Class series winter/spring 2020
Touch the Earth: Intuitive Art Workshops
Sacred Garden Events, Sebastopol, CA. Spring and Summer workshops, 2018 and 2019.
Infinite River: Intuitive Painting Workshops 2004-2009
Flatfile Galleries, Chicago, IL. (with Mur Quaglia)
Atelier Mur Quaglia, Chicago, IL. (with Mur Quaglia)
Lubeznik Center for the Arts, Michigan City, IN.
Purdue University, North Central, Westville, IN.
Zieve Studios, Three Oaks, MI.
Tom Robinson Studio, Chicago, IL.
Silver Creek Farm, Laporte, IN.
Camp Summit Boot Camp for Juvenile Boys, Laporte, IN.
Liberation Park, Buddhist Study Center, Oak Park, IL. (with Mur Quaglia)
Suburban Fine Arts Center, Highland Park, IL.

Testimonials:
"Michael's facilitation opens doorways into creative play through movement, ritual, writing and mixed media color. He holds sacred space in a sensitive way to create a safe and supportive environment to explore without judgement. I bring my art home every week to meditate on and discover deeper connections into the mysteries of it's whispered messages for me. I share with the group each week about my insights and explorations of themes, including how my emotional landscape is transformed through the process of art. This creative play is soul medicine, helping me at this time to move through waves of grief and find inspiration to bloom into a new life of curiosity and joy."
Annalise Madsen, Sebastopol, CA.
"As a long time painter, Process Painting brought me back to the basics of creating and reminded me how much I love engaging with pure color, texture, and brushwork. In the environment that Michael created I was free to play and explore, unconcerned with result. I looked forward to our weekly meeting and enjoyed every minute. The class reinvigorated my painting and I feel a new freedom and confidence."
Jennifer Robin, Petaluma, CA.
"Michael created a unique setting to explore moment to moment what wished to come forward on to the paper in front of me. This was achieved through his ability to convey his understanding of the creative process as well as connect us to our bodies through movement and grounding. What a fun and rich day!"
David Lee, Sebastopol, CA.
"I recently attended Michael's "Touch the Earth: Workshop". If like me you are struggling to keep your bearings as we witness extinction, political mayhem and climate catastrophe this work that Michael Provides is something to embrace. He is a skillful guide blending his intuitive creative process, the work of Joanna Macy, movement and selecting wonderful settings in nature to commune with others treading these troubled waters. It is good medicine and nourishment for the soul in these times!"
Jeff Rooney, Santa Rosa, CA.
"I would feel terribly selfish if I did not share the knowledge instilled in me by hearing your messages to help me to accept loving, positive thoughts. The mindful art class filled me with strength, warmth and kindness. I am still feeling that calmness."
Arlene Morrison, Petaluma, CA.
"...the workshop was a wonderful experience for me. I was able, through Zieve's gentle coaching, to open my mind to colors I never dreamed of painting with, and to breakdown personal restrictions about what to paint and how to paint. The workshop encouraged me to become one with the brush, the paint, and the paper, and to freely express my interior dialogue in my work."
Susan Aurinko, Flatfile Galleries, Chicago
"...I felt challenged to own my ability to listen and take heartfelt action in a medium where I have often felt a great deal of uncertainty. Thanks for your attention and directness. A totally freeing experience. Wonderful job."
Don Wenig, Dancing Feet Yoga, Michigan City, IN.
"I am constantly looking for tools to break down barriers to the creative flow. The workshop with Mike was a big help. It was supportive and fun (yet serious) ...I recommend it to any artist who is looking for ways to loosen up!"
Lynn Bassa, Chicago